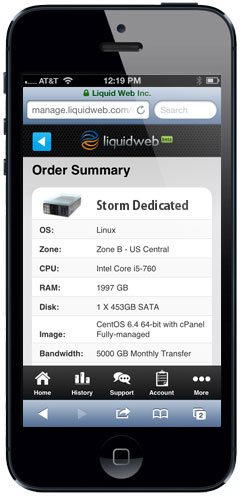 Updates to Liquid Web™ Mobile Allows Users to Launch Servers & Make Payments
We recently announced the release of Liquid Web™ Mobile, a handy, streamlined version of our Management interface for use on your preferred mobile device. As the release is a beta version, we have been working hard on updates and bug fixes over the past few weeks. After much hard work, we're now proud to announce the latest release includes a few much-desired features that allow customers to launch new servers and make payments through our mobile management interface!
At Liquid Web™, we know our customers are busy and are often managing their account while on the go. These new features make handling your account easy and seamlessly fit within your busy life. Liquid Web™ Mobile was designed with convenience in mind, allowing users to communicate with support, review their account overview, dashboard and event history all on their preferred mobile device! The addition of bill payments and the ability to launch new servers increases the appeal of our mobile management interface and provides our customers with exactly what they need.
As you explore the new features, let us know any thoughts, comments, or questions you may have about the site as a whole. You can find an easy-to-use feedback feature under the "More" area of the mobile site and we sincerely hope you'll utilize it. Your feedback will be instrumental in shaping future versions of Liquid Web™ Mobile!
To access the mobile management website and take advantage of the new features, visit Liquid Web™ Mobile or click the "Mobile Site" link in the lower right-hand corner of the full management site.