The entire Liquid Web™ team is buzzing with excitement as we unveil our newest creation among a series of developments aimed to provide our customers with a premium level of accessibility and convenience: Liquid Web™ Mobile! This website serves as a handy, streamlined version of our Management Interface, designed for your quick and easy use through your preferred mobile device. We've developed this site after many hours of research to discover exactly what our customers want and need in a mobile site.
To access the mobile management website, visit Liquid Web™ Mobile or click the "Mobile Site" link in the lower right-hand corner of the full management site.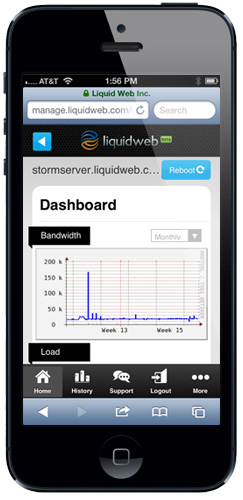 This release is a beta version and will be subject to continued development, with the addition of a bevy of features that will give users even more control in the near future. Potential future features includes the ability to create a server and make payments. However, as version one of the mobile site, this release is relatively simple and offers the basic features that our research revealed to be in the highest demand. We encourage you to submit feedback as it will be of great assistance to us as we continue to build upon the foundation of this site.  In this version of the mobile site, you can visit your dashboard, communicate with our Heroic Support® team, view your event history, and see an overview of your account.
Home (Account Overview)
An overview of your account on the homepage of the mobile website for manage.liquidweb.com. This page will provide you with a list of your servers and other details of your account at a glance.
Dashboard
The Dashboard provides a quick overview of your server health, including information such as bandwidth and load statistics.
Support
In the support feature, customers can communicate with our famous Heroic Support team by opening tickets, replying to tickets, calling or using Live Chat to contact our team.
Event History
Easily check your event history on the go from within the mobile website. This section is color-coded to help ensure customers can quickly and easily see the status of past issues.
Please take your time exploring the mobile site and let us know any thoughts, comments or questions you may have. You can find an easy-to-use feedback feature under the "More" area of the mobile site and we sincerely hope you'll utilize it. Your feedback will be instrumental in shaping future versions of Liquid Web™ Mobile!